Some tools are essential for a website.
They can help you grow, give an informed view of what's happening on a website and who's visiting, and ensure you are using the right SEO strategies to position your site at the top of search results.
Google has a slate of premium, free-to-use tools that can help anyone build a better website. Some are strongly recommended and we suggest they are all essential. Being totally free, of course, there's no reason not to use them regularly.
These are the Google tools that are a must for your website.
Google Search Console
Search Console is a tool built to help you monitor and troubleshoot your site's presence on Google search results.
Google Search Console gives you a direct connection to Google. It allows you to submit sitemaps and URLs directly to Google, ensuring everything is being indexed properly on its search engine. Also, you can tap into your search analytics from here and can get notifications when there's a problem with how content is loading on your website or similar issues that can impact search engine placement. Search Console will send you an update whenever there is an issue with your website. You can then fix the issue and validate the issue.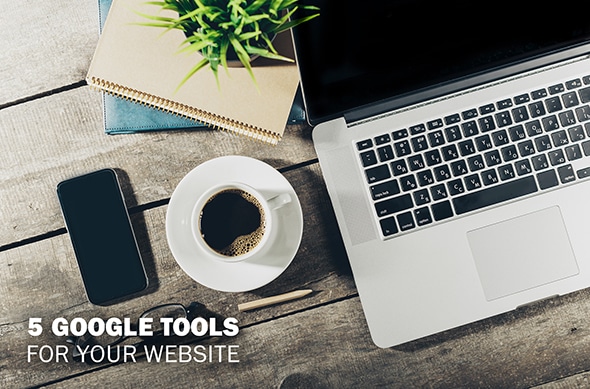 Google Analytics
Google Analytics delves into the numbers – who's visiting, what pages are getting clicks, and advertising ROI.
In terms of web statistics, nothing's more powerful than having Analytics set up. You can see in real-time how a website is performing and identify issues, such as a high bounce rate, or see where traffic is coming from, and more. All you have to do is copy and paste a small snippet of source code into your website and, once connected, you have a wealth of information to browse.
PageSpeed Insights
PageSpeed Insights, or PSI, delves into how a website is performing on mobile and desktop devices in terms of speed.
Using this tool, a web designer can continually optimize a website according to the user experience. PageSpeed Insights can see resources like plugins, code scripts, and other things that impact loading time. Google PageSpeed Insights is an underrated tool that allows you to see precisely what's causing a website to be slow and to correct it.
Mobile-Friendly Test
If you've ever wondered if there's a good way to check your website for responsive design or as we commonly refer to as mobile friendly setup, Mobile-Friendly Test is the best tool to use.
The Google Mobile Friendly Test is a tool that allows you to put in your URL and see how mobile-friendly your website is in a matter of seconds. What it measures includes site navigation, readability, and accessibility. You're assigned a pass-fail score at the end of the analysis and receive suggestions for improvements.
Rich Results Test
In recent years, structured data has become very important. We refer to that as rich results. Rich results are highlighting key information found on the website. In search results they appear as cards or separate entries in search results.
Rich Results Testing Tool is a search engine tool allowing you to test your code by entering URL (recommended method) or Code Snippets. The tool will let you know of any errors on your page that prevent from properly displaying your rich results. And it will of course offer suggestions about how to fix the problems. This is a big advantage for websites that rely upon structured data to communicate certain details in search results and is another advantage you can gain over your competition in catching someone's attention off a search query.