Updated: August 04, 2023
If you're looking to build your first website for your business or organization, you're likely in the process of trying to find out the cost of website design.
The cost of building a website in Canada is an important question for businesses of all shapes, sizes, and industries.
You may have asked several web design companies for quotes and/or looked at available options to do it yourself and been left puzzled by the wide range of web design prices.
So how much does it cost to build a website in Canada, specifically in Ontario?
Note that this article is only a guide. In reality, the price will depend on many factors that are outside of the scope of this article.
In this blog post, we'll cover the basics of building a website, and all additional required costs you need to consider with the web project.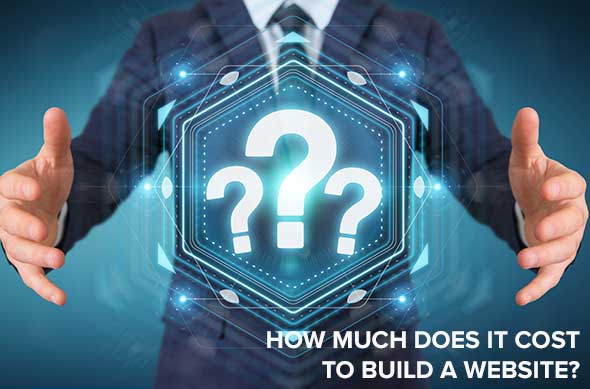 What Type Of Website Do I Need?
This is the first question one needs to answer and, understandably, you may not know what type of website you need.
The four most common types of websites are: information-style (basic) site, small e-commerce site, large e-commerce site and custom site or system.
What Is A Information-Style Basic Website?
An information-style website, or basic website, can be used by small businesses who are not selling online. These businesses often offer a service or want a website to represent their brand, organization, or company. A basic website shares a little bit about your vision, what you offer in products and services, communicates the tone and style of your brand, and how to reach you. They often are comprised of 15 pages or less, requiring rarely more than that.
What Is A Small E-Commerce Site?
A small e-commerce site is for a small to medium-sized business selling 100 products or less. They build upon the features of a basic website and often include a small blog that features guides on how to use products or that showcase the benefits of certain products. Any type of e-commerce site is going to require more cost than a basic website as you need to plan for hosting more pages, plugins for processing payments, and having an updated interface to display and sell products. E-commerce website will require a database, in the back end, to store information.
What Is A Large E-Commerce Site?
A large e-commerce site is an online shopping website with more than 100 products. They may have thousands of products that they sell. These types of websites often have tutorial videos for products, a more active blog delving into different products and promos, and more. There is a lot more to update on a large e-commerce site. Costs can vary significantly depending on what's being updated and how many products and features you have.
What Is A Custom / System Website?
A custom website or system is for companies or organizations  that do not necessarily sell online but which require additional storage, features, or unique design and functionality. A  photography portfolio website, a new social media platform, a CRM (Customer Relationship Management), an online magazine or news channel website are all examples of a custom website. They are complex. They require time to code properly, to ensure that they are intuitive, robust, and able to accommodate potentially hundreds of thousands of visitors every day.
What Is A CMS?
In addition to knowing what type of website you need, you also need to consider an inclusion of a CMS (Content Management System) for your needs.
A CMS is an interface that allows you to manage your own website. You can post and edit content, do blog posts, and make changes to the content of your website, including your product catalog without having to involve a developer or web designer.
For an e-commerce site or custom website, having a CMS is a must. The only type of website where you can skip it is a basic information-style website, however you can opt to have i there as well. As these websites stay fairly the same month after month, you can ask your web design company to maintain it for you. It is usually not worth to use CMS with a basic website.
What Can I Expect To Pay For A Basic Website?
The starting cost for a website in Ontario is somewhere between $1,500 and $2,000, and increases from there depending on the features you want and the size of the site. This sort of website is your very basic setup, with only a few pages on it. Of course, you may pay less for basic site depending on size, features, and the company you are working with, especially if this is done by a freelancer.
What Can I Expect To Pay For An E-Commerce Or Custom Website?
If you want to build a small e-commerce website in Canada, the website development cost starts at around $2,200 to $2,500 and can go up to around $5,000 to $6,000.
For a large e-commerce website, expect starting costs at around $5,000 – $6,000 and to go up quite significantly from there if you want all the advanced functionality.
Finally, for a large custom site or system, for example, CRM (Customer Relationship Management), you have to be ready to pay $10,000+.
What Will Increase The Cost Of Building A Website?
What can increase the cost of a basic website varies but often includes one or more of the following.
The number of pages.
Interactive features, such as having forms, calendars, and embedded social media widgets.
A registration system or forum where users can register and interact, similar to how social media sites work.
An eCommerce component where products can be sold online, requiring payment security and verification.
Here, as indicated you can have a small or large site. The difference will be in the number of products and functionality. For example, you can add an email newsletter sign-up feature, recommended products or similar products module, site search, advanced filtering and more. The more complex and advanced the website, the more you can expect the total cost will be.
What Other Costs Should I Consider When Creating A Website?
There are other costs to starting a website that have to be factored in as well on top of the website itself.
Domain name registration. After you register a domain name, you need to renew the domain registration on a regular basis, often done annually.
The amount of email addresses you want attached to your domain name matters. They are priced by the user but in return, you get a professional email on your domain that will authenticate your communication.
Hosting services on which your website will be placed, influencing speed, stability, and security.
Security services, such as SSL certification, to help protect your website against potential threats. Security has become a standard and you need it even if your website is not an e-commerce setup.
Site maintenance, ensuring your website is properly maintained, updated, and supported.
The cost of a merchant account for eCommerce services if you decide to sell products online. You can slightly offset that by using services such as PayPal or Stripe.
The photos you use on your website come at a cost, whether they are your own original photos or stock photos.
Copywriting services can be advantageous if you want to start a blog or need someone to populate your site with written content.
Digital marketing, i.e. Google Ads, SEO, and more, to ensure your website is being featured on search engines.
Website Builders
The alternative to a website built by professional web design company is to use a website builder such as Wix, Weebly, Squarespace, Shopify, or other. This is what a lot of small business owners try to do when they start thinking about a website and they find out rather quickly that this is not always the easiest path to go down.
This is a topic that would require a separate article, but you need to consider the following before looking into website builders.
Will they meet your requirements when it comes to the functionality you want?
Do you have enough technical knowledge to work with them?
Most importantly, will you have enough time to build your own website from scratch, considering your other duties?
Will you have enough time to maintain your website and take care of it on an ongoing basis?
No website builder is free, either. You still have to pay for the website builder, templates, domain name, emails, hosting, and more. Each of these costs add up and, unfortunately, when considering the time investment and effort required to learn how to make simple changes that a web designer could do for you, is not always worth it for the average business owner.
How Much Time Is Needed To Build A Website?
There is no average time it takes to build a website. There are some websites that may take few days while others can require several months of development, depending on the size, layout, features you want, and how many web designers you have collaborating on the project.
When you decide to use a web designer, they can provide a more accurate timeline on when to expect a completed website.
Is Having Your Own Website Built By A Web Design Company Worth It In The Long Run?
It is strongly recommended to create a website with an experienced web design company who already understand the ins and outs of what's required to make for you the exact website you want from top to bottom.
There are too many benefits to having a website to consider any alternative. You establish an online presence 24/7 with a website. It adds credibility, allows you to expand your brand to more people, and gains unique insights on who's viewing you.
A website also publishes all important information about how to contact your business, your products or services, and more. The cost, long-term, balances itself out fairly quickly when considering the advantages of your own website built by an expert professional.
Your best option is to hire professional web design company who already has the knowledge to develop a website tailored to your needs. In such cases, the website you receive will also be original and custom built. No cookie-cutter templates. No shortcuts.
Done right and done professionally, this takes time and is why websites are priced individually based on the specifications. You want your website to work for you and be designed the way you want and including all the functionality required for your type of business.
For a quote on how much your website would cost to design, contact us directly. We're happy to provide a custom quote based on your needs, free and under no obligation.