A successful business website builds from key elements which attracts and converts leads, satisfies returning or existing customers, and which accurately represents your brand. Here is the final entry into our series on features every professional business website should have included within their web design.
Mobile responsiveness
More than half of all Internet users coming to your website are likely to be coming from mobile devices like smartphones, tablets, and others. A mobile responsive web design allows the appearance of your site to adapt to the size screen it's on. This means a user can easily see all information, without having to scroll excessively or zoom in. It's user-oriented web design done right. Non-responsive web design creates the potential for a prospect to click on your site, see that it's difficult to navigate, and then leave for a competitor. Don't let that happen. Have an adaptable, easy-to-navigate, and mobile responsive site ready to go.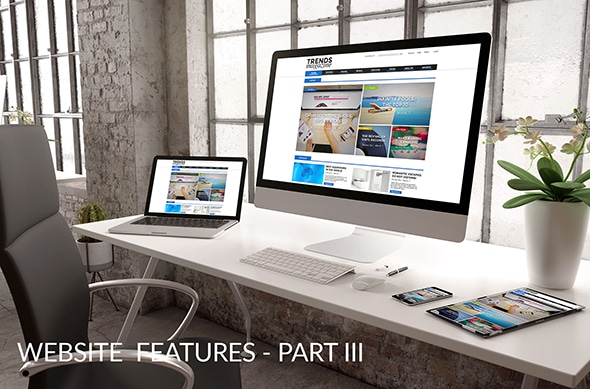 Search engine optimization
Search engine optimization, more commonly referred to as simply SEO, uses strategies for Google to rank your site most favorably to what your brand stands for. This is done through the use of keywords. Advanced, performance-driven SEO strategies ensures your website ranks as high as possible – sometimes on the first page and sometimes, even as the first entry to a relevant search query. The higher you sit on the search engine, the more likely you'll receive leads from Google, Bing, and other search engines. SEO is a high-ROI digital marketing strategy with serious long-term potential.
Images
The use of images and graphics on your website is a modern, exciting way to keep your brand engaging for your clients. High-resolution, appropriately-sized images and creative graphics are a necessity in this day and age. Try to think of the last time you visited a site that was all text and no graphics. Outside of Wikipedia and select others, most sites rely heavily on images and graphics, and rightfully so. It's an effective way to add color, logos, CTAs, and more on site pages which will work in your favor to convert more leads. These same images can be re-purposed on social media, in email marketing, and in offline marketing materials as well.
Video
Video is a growing element of website design and digital marketing. Video is consumers' favourite type of content to consume although it can be expensive to create. That said, YouTube, Facebook, Twitter, Instagram, Snapchat, and nearly all social media platforms today are being built off video creation and consumption. In web design, video should be used sparingly however when done right, it can enhance your site design as well as perception of your brand. Video's a powerful communication tool to share how-to instructions, to highlight product features, share customer testimonials, to show behind-the-scenes, and to tell stories.
Social media marketing
A website should absolutely have links to all your social media accounts. Facebook and Twitter are almost a necessity for every brand, although some businesses may choose to link Instagram accounts, LinkedIn, and more. Social media links in web design creates a seamless blend between what's on your site and sharing your content with family, friends, and potential leads. Word-of-mouth advertising is just as effective today – if not more so – than it has been in the past. Social media is a way to tap into that, using your website visitors to share and advertise your brand. This entire process starts with incorporating social media links on each and every page.
For the best in London, Ontario web design, New Concept Design is ready to be put itself to work for your brand and website. For our clients, we provide website hosting, print design, SEO, mobile responsive web design, social media marketing strategies, WordPress development, advanced website security systems, and more. Contact us today to take your business website to the next level.