Any professional business website is going to have a collection of features that make it successful. For sites looking to build their brand, increase lead conversions, and retain lifelong customers, here is the second set of must-have professional business website features in our three-part series.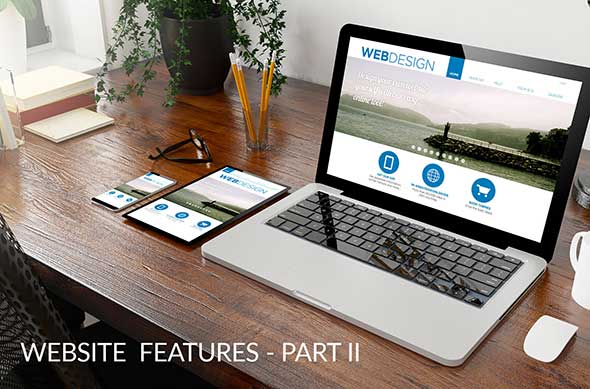 Key products and services
When you complete your web design, you're going to want to ensure your products or services are represented in the most eye-catching, click-friendly fashion. Products or services should come with dedicated pages highlighting the benefits, incorporating the right keywords, and answering questions, all in an effort to entice the user to buy into your brand. By having key information readily accessible, this cuts down on obstacles or unanswered questions a prospective customer might have. It's a smart move for any business selling online!
Easy-to-find contact info
It should be no struggle for a potential customer to get in touch with you. Contact information should be plainly visible, usually on a dedicated Contact Us page as well as elsewhere on the site where appropriate. This should include your address, email, and phone number, as well as social media links. All of these make it easy for a customer to get in touch via their preferred method of interaction. For some users, not being able to send an email, make a phone call, or connect through social media is enough to turn them off from buying in. Make it easy for them with easily locatable contact information.
Fast loading pages
A professional business website has less than 3 seconds to load and make an impression on a user. A fast loading page is a necessary element of your web design, helping with maintaining interest from users as well as contributing to SEO. No one wants to wait for a web page to load. This isn't very user-friendly. By incorporating too many images, videos, and not optimizing your code, it doesn't take much to begin slowing your website down. With an experienced professional website designer in London, Ontario, they can assist in keeping every page fast-loading.
Sitemap and robots files
Web files like robots.txt and sitemap.xml go a long way in improving your website and making it easier for search engines to crawl. What these files do is show search engines the page infrastructure of your site. Through this infrastructure, search engines know where to crawl and how to index certain pages. Robots.txt identifies what to crawl and what not to crawl, and is something a search engine bot will look at as soon as it arrives on your site. Sitemap.xml is a complete list of all webpages hosted on your site. Ensure these are included on your site and you'll see the difference in organic returns.
Security prioritized
One of the more important features a professional website should have is security. There are many elements of prioritizing security, including updating when appropriate, ensuring passwords are intelligently designed, completing regular website backups, and more. SSL certification is also important. When an SSL certification is installed on a web server, it activates a padlock and https protocol while allowing only secure connections from web server to browser. To not have an SSL certificate is to present your site as vulnerable to security attacks, something which browsers like Google Chrome will make aware to users. No matter what kind of website you may have, an SSL certificate is a necessity.
London, Ontario web design is made easy with New Concept Design overseeing key aspects and features. Specializing in hosting, print design, eCommerce, SEO, mobile app development, WordPress development, and web security, let us help bring your vision to reality. A high-performance, fast, mobile-ready, and easy-to-manage website from a top-rated web design agency is just a click away. Contact us today.