In the COVID-19 Era
Retail businesses, brick-and-mortar stores, and in-person sales-based businesses are seeing challenges they never thought they'd have to face in the COVID-19 pandemic.
How to attract consumer attention in an era defined by panic-buying, unemployment, and careful purchasing is something that an eCommerce site may be able to help with.
eCommerce websites do not require a brand to have a brick-and-mortar store. In fact, many eCommerce brands work from warehouses and storage facilities, distributing product when purchases occur and securing inventory as needed.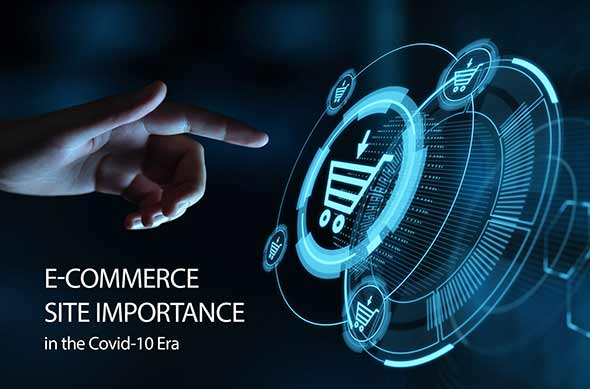 Not only does eCommerce web design make sense in the current conditions but in the years ahead, it's a sure way to continue selling and moving product, and maintaining profitability should circumstances like these unfold once again.
Why Every Business Should Have an eCommerce Component
Just because consumers can't come to visit you in-person, this doesn't mean you can't sell products and services online.
Though some prefer to shop in-store, other shoppers want convenience. They're used to perusing mobile-responsive, SEO-driven eCommerce sites on their smartphones and filling their cart with the products they want, cashing out in a matter of a few taps on their touchscreen.
Having an eCommerce site isn't costly, either. For businesses who haven't yet opened up an eCommerce channel online, think of it like starting up a new location for your business with the lowest overhead you'll ever have to pay.
eCommerce Numbers Have Been Increasing For Awhile
Year-over-year, the eCommerce industry continues to gain in value. More customers = more sales. You'd be surprised by how many customers you can reach through an online portal like eCommerce.
Throughout the COVID-19 pandemic, it's only helped along the trend of rising eCommerce value. Online orders in North America have increased by 50-75% in some businesses. Though some leveling off can be expected as brick-and-mortar reopens, online orders are still on an upswing.
Some experts say 'the future is eCommerce'. Based on current projections, this could be very true. Whether it is or it isn't, by setting up an eCommerce website today, you protect your business against future economic shutdowns and keep a sales portal open for your customers. It's as close to protection against a future pandemic-related shutdown as any business can get.
Start Today And You'll Be Stronger Tomorrow
On top of guarding against future disruptions in your profitability, an eCommerce website sets your brand up online in a way that allows you to build for the future. Gain customers and pull market share away from your competitors.
Tap into consumers where they are – on their smartphones, tablets, voice-search enabled devices, and laptops. Tap into social media, advertising your products or services through Instagram, Facebook, Twitter, and others. Build out an eCommerce email newsletter. Invest in AdWords to start a campaign that gets you in front of would-be customers you've never had before.
All of this potential for more sales, more revenue, and more profitability starts with an eCommerce website. This is your hub. Around it, you can build out. The longer you have it, the more momentum you build.
If there's a way to adapt your products or services online, do so. There's a lot of opportunity in eCommerce to keep you in business even during the toughest times. Whatever the future holds during and after the COVID-19 era, those who set themselves up with eCommerce web design are positioning themselves for a very profitable future.