Whether you're looking to build a website from scratch or are updating an existing business website, the web designer you choose is going to determine a lot about its look, feel, and success.
When a potential customer reaches your website, they will know within 30 seconds or less if they are going to stay on your site or leave and try a competitor's. Knowing this, find a London Ontario web design expert that will deliver on what you expect. So crucial to your online presence, consider these points when considering who to hire for your web designer.
Is the web designer right for your business?
Look at their portfolio of work and ask yourself, are they experienced enough to handle your website? Have they worked with similar businesses to yours in the past? A lot of web designers have a one-size-fits-all approach, using all the modern trends which aren't necessarily always suitable to every business. The right web designer will build a business website for you and your audience, tailoring everything to what you need rather than what the designer knows.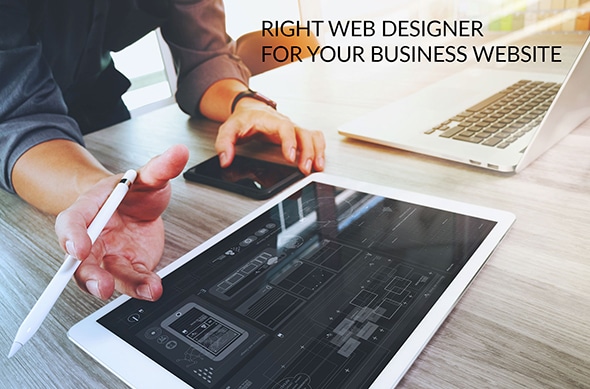 Do they have the time to dedicate to you?
No one wants to feel like they're being squeezed into somebody's schedule or like they're one of many. You want a web designer who's going to have the time to sit down with you, learn about what your vision is for your website, and who will work with you to build the website you want. If you feel rushed or like your ideas aren't being listened to, it could be a sign that web designer isn't for you.
A multi-screen design that adapts
Web design isn't just for desktop computers and laptops. Business websites are in fact being seen more on mobile devices like smartphones and tablets. You need a web designer who knows how to design an adaptable visual layout that doesn't compromise your branding or communications on-page. When you can reach a consumer on any and all devices, you're setting yourself up for a home run.
Is your web designer marketing savvy?
It helps when you have a web designer who is not only experienced at building code but they also have knowledge of digital marketing, such as SEO, PPC, social media, blogging, mobile apps, and more. If they have a marketer's brain or have done work in marketing, this can be an asset to designing functionality and an aesthetic that is sales-friendly and revenue-oriented. Business websites, after all, are sort of like having a 24/7 sales representative ready to help.
Can they help with hosting services?
If you have a web designer in London, Ontario who is able to help simplify your business website experience by providing you hosting services as well, you have a winner! Reliable hosting services will keep your website online, accessible, and make it easy for people to find you. A web designer may also be able to provide assistance if there ever is a hosting issue or if your hosting plan needs to be upgraded from an increase in traffic or use.
A business website is the hub around which you will build everything you do online and even some of what you do offline. It's easily one of a business' most valuable assets. Choosing the right web designer for your business website is integral to delivering your message to prospects and customers. Web designer London Ontario you can trust and with the resources to help get you set up online is ready to help. Speak with a representative at New Concept Design today.