As one of the best web designers in London, Ontario, we've seen a lot of trends come and go throughout our past 20 years of being in business. This year, popular web design trends continue to prioritize the user experience above all else. For businesses of all categories, the latest web design trends can inform a lot about what makes a successful small business website.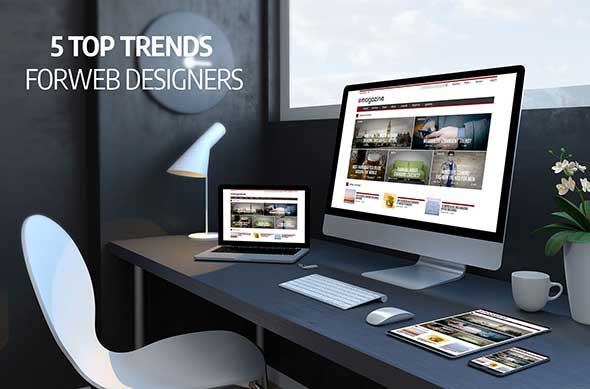 Minimalism as your aesthetic guide
Web design appearance continues to focus on minimalism. Unnecessary elements such as graphics or images that aren't really making an impact should be removed. With more consumers browsing on their smartphones, tablets, and mobile devices, it's important to present a clear, clean interface with no superfluous details clouding the aesthetic.
More social media and video integration
Every website should have links to their social media accounts embedded on every page, not just across their blogs and articles. More and more, we are also seeing the integration of video marketing into web design in London, Ontario. Above text, images, and graphics, video is favored by most consumers and it gets real results.
Personalization to your target audience
We usually associate personalization with things like email marketing but in web design, the content we use is becoming more targeted to the finer details of one's target audience. For example, web designers are using more location-based landing pages to target specific markets. Some sites employ user accounts to provide content-specific page adaptations and dynamic content satisfying the customer.
Join the chatbot web design revolution
More customer-oriented small business websites in London, Ontario are using chatbots to connect with customers and cultivate relationships. Chatbots have been shown to be highly effective at helping users get their questions answered and finding the right content. The employment of chatbots costs you nothing and is like having a customer service rep available 24/7. The right web designer behind a chatbot app will also ensure it doesn't slow down your website or negatively impact the user interface.
Less blogs, longer content
There are 1,000,000s of pieces of content being published every day on the Internet. Users are being inundated with blogs, articles, websites, promotions, and marketing of all kinds. How's yours going to stand out – well, in quality. Web design isn't just about website coding and presentation. If the content's low quality, no amount of design is going to help it generate results. We are seeing more websites produce less blogs overall but making them longer in text, incorporating images, videos, and GIFs, and more engagement-friendly.
Your business' online presence is ultimately yours to create. These web design trends can be a guide to a high quality website overall but there's so much more that goes into it. From the font chosen to the logo, graphics, images, color palettes, shapes used, apps selected, and of course, knowing when to use what and where. As your London, Ontario web design service, we want to help you achieve your vision. We're experienced in all these categories of design and others. Through every step of web design and development, we'll be there to help you achieve!