We are living in the era of COVID-19. This year will forever be known worldwide as 'the year of coronavirus'.
However you want to analyze it, it's a hard time for businesses. Although our government's instituting measures to help small to medium-sized businesses, most have shut down their operations.
What Can I Do With My Business While COVID-19 Has Shut Down the City?
Even though we may be living a culture of isolation, quarantine, and shutdown right now, businesses shouldn't discount the opportunity in front of them. With business at a standstill temporarily, now's the time to plan.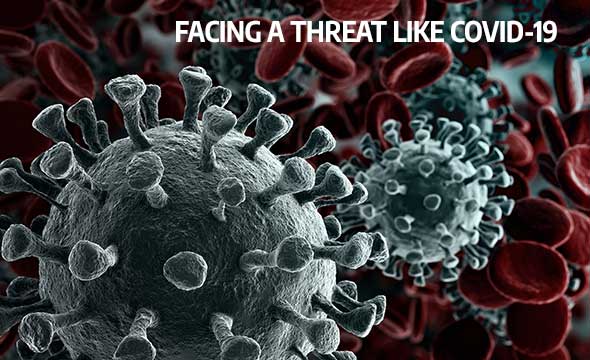 Web Design, Social Media, Email, and A Digital Marketing Plan for Post-Coronavirus
Plan what you're going to do when things begin to get back to normal. Analyze your business model. Set up your web design. Get your social media accounts ready to unload. Gear up. Prepare yourself. When the societal conditions around COVID-19 in London, Ontario start to calm, it will be on you to jump back into action.
Where There's Disruption, There's Opportunity
Like it or not, whatever plans anyone had for 2020 in business are being thrown out the window. There's uncertainty. With disruption, however, comes opportunity. Some businesses may be phased out, while other companies move in and capitalize. An online presence will be the battlefield. This is how you get your marketing message out. It's where you connect with new and existing customers.
A Website Connects You to Customers 24/7
Customers can always reach their favourite brands through a website. With web design, even when everything's shut down, you still have a way to get messages out to customers and reassure them that you still exist and in many cases operate from home office, as New Concept Design is doing. Watch for next blog (in May) to learn how our company operates during the time of coronavirus, but not only.
Is There Opportunity to Move More Sales Online?
Some eCommerce web design sites are still selling product in this time of coronavirus shutdown. That's because fewer and fewer people are leaving their homes. A virus like this transfers through person-to-person contact. There's more incentive there to contact businesses online, through smartphones or by email. Do you have a web presence – if not, consider a London Ontario website design service to get you set up with a way to sell more to consumers online.
How Does An eCommerce Website Work?
Whether it's selling product directly off an eCommerce website or advertising through email, social media, or other forms of digital marketing, an online presence keeps your business going when physical locations are closed or inaccessible. An eCommerce site works by allowing customers to access your products and services online, when they want to, on their laptops, tablets, and smartphones. It's the most convenient way to shop. Why wouldn't you want to be included – your competition likely already is or actively planning to be there.
Why An Online Presence is the Way Of Today and the Future
Technology has progressed to such a wonderful place. Even with coronavirus in London, Ontario, doctors are still able to provide medical services by phone and through videoconferencing. Grocery stores and restaurants are providing ways to put in an order online and have it delivered to your front door. An online presence is keeping our community strong. Having a small business website and being active online, you further integrate into our community.
How Many People Are Shopping Products And Services Online?
There are millions of people online right now. More Canadians than ever before. They're searching for content to connect with and brands that resonate with them. Strengthening your web presence boosts you to where you want to be, keeping you active in the eyes of consumers.
Where Do You Want to Be When Business is Stable Again After COVID-19?
It may be in late spring, early summer, even later in the year, or early 2021 but eventually, business will return. When it does, you're going to get a different consumer. They will be more likely to shop online. They will be more likely to connect with brands online, seeking their websites, social media, and more.
Set up your web design and online presence in London, Ontario today and you'll be set for what's ahead. Together, we can make it through the coronavirus pandemic. Now's not when businesses should give up. Now's the time to recharge, plan, design, and get into position. Contact New Concept Design to find out more about how to do exactly that: 519-860-2898.